Demat Account – Choice Broking Ltd.
India's Leading Full-Service Broking Firm
Choice Equity Broking Private Limited is a member of BSE, NSE, MCX, MSEI and NCDEX along with being a depository participant with CDSL. To provide Traders "One Roof" services, we provide:
• Proprietary Trading Platform – Jiffy
• Panel of Expert Research Team
• Regularly engaged by Top Business Channels for Stock Market views
• Free Comprehensive Reports
• Trading / Investment Desk
• Portfolio Management Services
In our commitment towards creating wealth we have been "Nurturing Financial Excellence" for over 2 decades. Come, be a part of this journey.
Why Choice Equity Broking Private Limited is THE Best Brokerage Firm for You ?

Customer Service
• Always Available, Proactive and Keen to Help.
• Service that makes your Investments and portfolio management a Breeze.

Online Demat Account
• Instant and Paperless.
• Think – Register – Start. That's how simple we make for you.
• In the interest of environment – 100% paperless transactions.

Best Full Service Broker
• We work with the Best in Business.
• Experts who are on top of their game.
• Dedicated to provide you the Best Services & Facilities.

We Abide by All Rules & Regulations
Choice Equity Broking Private Limited adheres to all Regulatory Rules and Compliances. We abide by everything laid down by SEBI so you remain stress-free. As India's leading Brokerage Firm we aim to lead by example.
Wealth Creation Opportunities

When our Clients praised us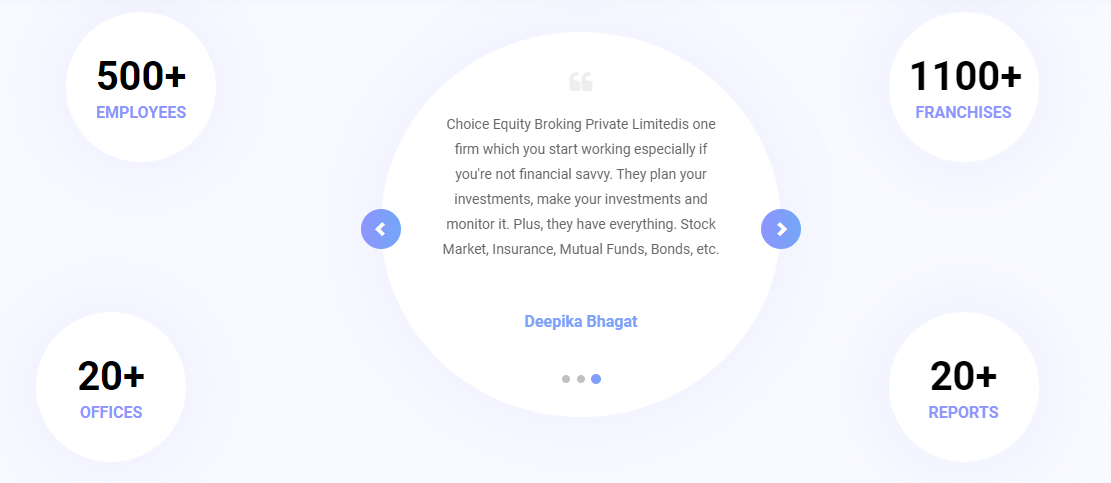 Most Accurate Research Reports in the Market
A combination of intensive analysis, exhaustive research by domain experts produces our research reports i.e. Fundamental Research Reports and Technical Research Reports. Now Invest/Trade in Stock Markets armed with reliable advice.
Attention Investors:
1. Stock Brokers can accept securities as margin from clients only by way of pledge in the depository system w.e.f. September 1, 2020.
2. Update your mobile number & email Id with your stock broker/depository participant and receive OTP directly from depository on your email id and/or mobile number to create pledge.
3. Pay 20% upfront margin of the transaction value to trade in cash market segment.
4. Investors may please refer to the Exchange's Frequently Asked Questions (FAQs) issued vide NSE circular no NSE/INSP/45191 dated July 31, 2020, NSE/INSP/45534 dated August 31, 2020, BSE Notice no. notice no. 20200731-7 dated July 31, 2020 and 20200831-45 dated August 31, 2020, MCX circular no- MCX/INSP/649/2020 dated September 07, 2020, NCDEX Circular no- NCDEX/COMPLIANCE-051/2020 dated- September 03, 2020 and other guidelines issued from time to time in this regard.
5. Check your Securities /MF/ Bonds in the consolidated account statement issued by NSDL/CDSL every month.Read More..
………. Issued in the interest of Investors